Taco Bueno Partners with TrizCom Public Relations
50-year-old brand ramps up efforts for expansion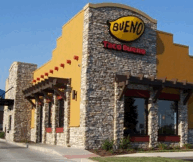 DALLAS (April 25, 2017) – Taco Bueno, the regional fresh Tex-Mex restaurant chain, has selected Dallas-based TrizCom Public Relations as its agency of record. TrizCom PR's efforts will focus on supporting Taco Bueno's evolving brand narrative by amplifying the tried and true message across media and audience.
"We have been working on a seismic shift of focus in the marketing, operations, franchising and overall 'top-of-mindness' of Taco Bueno in our core regional markets and nationwide," said Mike Roper, president and CEO of Taco Bueno. "We anticipate a smart, yet aggressive, expansion in our 3-5 year forecast for the company, and we have been diligent in making sure the right teams are in place to work lockstep with each other. We are confident that the team at TrizCom will work to amplify our message in an efficient and effective way."
"Taco Bueno has a fiercely loyal following of #buenoheads that have been developed organically over time," said Jo Trizila, president and CEO of TrizCom Public Relations. "The 50-year-old, regionally iconic brand's latest communication goals include reaching out to the millennial population by engaging in conversation and serving relevant content through earned media. We are obviously proud to be partnering with Taco Bueno and steering the message with them."
In 2016, Taco Bueno was voted America's favorite Mexican quick service restaurant according to Market Force Information's annual national survey. The company hopes to continue receiving positive coverage regarding their quality and service, but also anticipates brand enhancement through influencer programs, expanded menu items and participation in out-of-the-box events.
"I'm up for anything," added Roper, head of the tried and true taco chain. "You can dip me in a vat of queso if it helps get out the word about Taco Bueno."
True to form, Roper will be the star of "Undercover Boss" airing Friday, April 28, 2017 (8-9 p.m., ET/PT; 7-8 p.m., CT), on the CBS Television Network.
"The amount of activity is feverish, and we are committed to supporting Taco Bueno in this exciting time," Trizila stated.
# # #
About Taco Bueno Restaurants L.P.
Taco Bueno is committed to creating an authentic Tex-Mex experience. Taco Bueno is passionate about providing better tasting Tex-Mex, prepared daily with fresh, hand-selected ingredients. Founded in 1967 in Abilene, Texas, Taco Bueno operates 184 restaurants in Colorado, Texas, Oklahoma, Arkansas, Kansas, Missouri and Louisiana. The company is privately owned by TPG Growth. Learn more about Taco Bueno by visiting www.tacobueno.com or www.facebook.com/buenoheadquarters.
About TrizCom PR
TrizCom is a multi-talented, high-caliber public relations company. Located in Dallas, with footprints across the United States, TrizCom serves clients in a wide variety of industries and specialties. For more information, visit www.trizcom.com.
Contact:
Dana Cobb
TrizCom Public Relations
972-955-9747
dana@trizcom.com
Katie Mudd
TrizCom Public Relations
214-676-4254
katie@trizcom.com