It's Summertime for Tacos at Taco Bueno
Taco Bueno Heats Up Summer with Five New Tex-Mex Tacos
DALLAS (June 13, 2017) – Starting today, Taco Bueno is cooking up some heat with the addition of its newest, limited-time offering: Summertime for Tacos, five new specialty tacos. Available for a limited time only and starting at just $1.99, these tacos are filled with adventurous flavors that are as exciting as summer.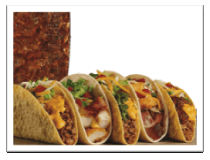 "We have been in the habit of serving tried and true Tex-Mex for a half century. This summer, to the delight of Buenoheads nationwide, we are mixing it up. With the introduction of our five new, flavor-filled tacos, we are taking the 'spice of life' to new levels." said Taco Bueno Chief Marketing Officer Sarah Beddoe. "As with everything we do at Taco Bueno year-round, Summertime for Tacos will offer the highest quality Tex-Mex by using the freshest and best-tasting ingredients. We are the only Tex-Mex brand that can say its menu items are made by scratch each day at all of our locations. From our fresh salsa bar to 30-hour beans, we craft authentic and original Tex-Mex recipes in each of our kitchens every day."
Summertime for Tacos includes:
Ultimate Crispy Beef Taco – EXTRA BEEF, EXTRA CHEESE, LETTUCE, PICO AND ULTIMATE QUESO in a crispy shell. Just $1.99.
Crispy Chicken Club Soft Taco – CRISPY CHICKEN, BACON, LETTUCE, PICO AND QUESO. Just $2.49.
Ultimate Chimichurri Crispy Beef Taco – EXTRA BEEF, EXTRA CHEESE, LETTUCE, PICO, ULTIMATE QUESO AND CHIMICHURRI SAUCE. Just $1.99.
Steakhouse Soft Taco - FAJITA STEAK, TATER TOTS, CHEESE, PICO AND A.1.® SPICY CHIPOTLE SAUCE. Just $2.49.
Ultimate Chipotle Crispy Beef Taco – EXTRA BEEF, EXTRA CHEESE, LETTUCE, PICO, ULTIMATE QUESO AND CHIPOTLE SAUCE. Just $1.99.
Taco Bueno is all about authenticity with their made-in-house menu items. Cooked with fresh – never frozen – 100 percent ground beef, three of the new tacos feature the fan-favorite "Ultimate Queso" made in-house daily.
"We love tacos. We also love that we can jazz them up with interesting fun flavors to make new creations that we know our customers are going to go crazy for," said Beddoe.
Buenoheads are invited to check out the new Summertime for Tacos, available for a limited time at participating restaurants nationwide or on demand through mobile delivery services. Taco Bueno has partnered with third-party delivery apps, allowing Buenoheads to consume Bueno all day and every day. To find a store or for more information about mobile delivery, please visit www.tacobueno.com.
# # #
About Taco Bueno Restaurants L.P.
Taco Bueno is committed to creating an authentic Tex-Mex experience. Taco Bueno is passionate about providing better tasting Tex-Mex, prepared daily with fresh, hand-selected ingredients. Founded in 1967 in Abilene, Texas, Taco Bueno operates 184 restaurants in Colorado, Texas, Oklahoma, Arkansas, Kansas, Missouri and Louisiana. The company is privately owned by TPG Growth. Learn more about Taco Bueno by visiting www.tacobueno.com or www.facebook.com/buenoheadquarters.
Contact:
Dana Cobb
TrizCom Public Relations
972-955-9747
dana@trizcom.com
Katie Mudd
TrizCom Public Relations
214-676-4254
katie@trizcom.com