Celebrate Every Day Like it's Taco Tuesday
Taco Bueno introduces the Wholotta Box in time for Cinco de Mayo
DALLAS (May 2, 2017) – Taco Bueno is cooking up a game-changer in the Tex-Mex world. The North Texas-based iconic fast food chain is introducing the world to the Wholotta Box. This fun, festive, budget-friendly meal combination can perfectly feed a whole crew of friends, family, coworkers or even strangers with its 12 party tacos (or party burritos), two sides of beans, two sides of rice, chips and Bueno's signature Original Red Sauce made in-house daily.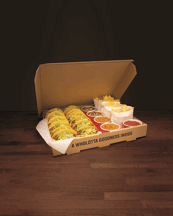 "We are known far and wide for our tacos and burritos, and when you do something right, you want to do a whole lot of it," said Taco Bueno Chief Marketing Officer Sarah Beddoe. "The new Wholotta Box can turn an everyday dinner with friends and family into a party at an affordable cost. As with everything we do at Taco Bueno, we serve the highest quality Tex-Mex with care by using the freshest and best-tasting ingredients."
Priced at just $10, the Wholotta Box packs a party punch and keeps the more than 500,000 self-proclaimed "Buenoheads" armed with the tools to spread Buneo love to the masses.
The Wholotta Box is available at participating restaurants nationwide.
# # #
About Taco Bueno Restaurants L.P.
Taco Bueno is committed to creating an authentic Tex-Mex experience. Taco Bueno is passionate about providing better tasting Tex-Mex, prepared daily with fresh, hand-selected ingredients. Founded in 1967 in Abilene, Texas, Taco Bueno operates 184 restaurants in Colorado, Texas, Oklahoma, Arkansas, Kansas, Missouri and Louisiana. The company is privately owned by TPG Growth. Learn more about Taco Bueno by visiting www.tacobueno.com or www.facebook.com/buenoheadquarters.
Contact:
Dana Cobb
TrizCom Public Relations
972-955-9747
dana@trizcom.com
Katie Mudd
TrizCom Public Relations
214-676-4254
katie@trizcom.com